POSTI DI VISTA 2014

IN_SUSTAINABLE
Fabbrica del Vapore – Via Procaccini 4, Milan
Palazzina Liberty
Opening: 8 April / from 6.30 pm

Open: 9 – 13 April / form 10 am to 10 pm

During Fuorisalone 2014, at the Fabbrica del Vapore, FDVLAB is showing an articulated series of designs with strong experimental and creative connotations that offer a transversal and unconventional reading of design that addresses the theme of urban sustainability.
For the fourth consecutive year the collaboration between INVIDEO by aiace and IED continues. The students have worked on the theme of digital sustainability; two interactive installations will be exhibited in the exhibition IN_SUSTAINABLE. The disciplines involved are Interaction/Media Design, Video Design and Sound Design by the School of Visual Communication, with lecturers Painè Cuadrelli, Davide Sgalippa and Paolo Solcia.

Fingerprints in the smoke. Reflections on the process of data conversation over time.
"Every day we entrust a large portion of our memory to digital supports, believing them to be containers that will last eternally. In actual fact, the immediate retrieval of the data is proportional to its loss." Manifesto by Giorgia Cesari, Mattia Gadda, Alessandro Mascia, Martina Rocchi, Federica Venuto. We know that fingerprints are individual and do not change over time: five people at a time will be asked to leave their fingerprints and soundprints…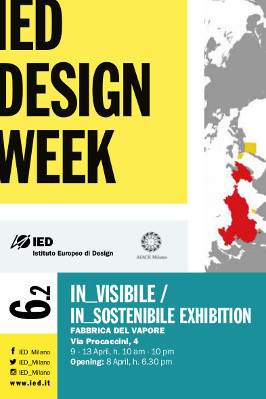 Invisible. "As it is not possible to identify precise cases of censorship in western countries where words arbitrarily removed by governments are not to be found, but where the origins of information are not given because they are covered by secrets, we have preferred to highlight only cases of evident censorship, as happens in some parts of the world."
In the installation by Gaetano Aliotta, Francesco Bonomi, Ding Shilei, Daniele Gavazza and Fabio Leone, the visitor observes a neutral world map and has available a series of words. He can chose a word and on the world map the areas where this word is subject to censorship will appear in colour accompanied by specific sounds linked to the word itself.
The installations can be seen at the Palazzina Liberty from 10 am to 10 pm from 9 to 13 April 2014
Opening: tuesday 8 April from 6.30 pm

For info about POSTI DI VISTA 11*: www.fdvlab.org
Curated by: